This month my book club is reading Born A Crime by Trevor Noah. A must-read (or even better get the audio and listen to him read his book)!
On the surface, you would never think that Trevor and I were alike.
He was born extremely poor during apartheid. He was mixed race which meant that he did not fit in with the whites or the blacks.
I was raised in an affluent suburb of Chicago with every advantage.
We both have stepfathers but his was an abusive alcoholic where mine is one of the most supportive and generous people I know.
Trevor is now a wealthy successful talk show host.
I run a small business and the only hosting I do is for my girlfriends at my house for poker night.
You would never say we were the same. That is what I thought as I listened to Born a Crime until he told the story of begging his mom to buy him The Chronicles of Narnia by C.S.Lewis.
It was in that moment that I knew, even though I was not from Africa, Trevor and I are of the same tribe.
My heart expanded and I felt love for Trevor, for myself and for everyone on the planet all at once.
It was weird really.  I recognized in Trevor someone who loved the magic of that series of books and that felt like a soul connection.
I imagined Trevor, like me, secretly exploring wardrobes in other people's homes just in case…
I saw past all that may seem to make us different and knew we were alike.
And that is the secret to inclusion. Recognizing where you are alike. Feeling a connection to a kindred spirit.
That is why employee resource groups are so important. They bring people from all walks of life together in a common interest and people know they belong.
If you don't happen to work for a large organization then finding a Meetup or joining a book club or starting a knitting circle or becoming a member of an association in your field builds more inclusion and belongingness into your life.
Find your tribe and know that, at the heart of it, we are all connected by things we love.
Trevor and I look forward to joining you there.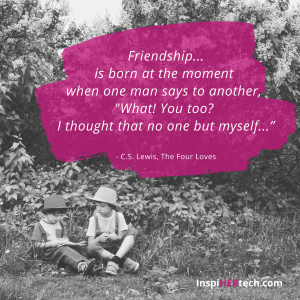 Trevor Noah interview for Guardian Live