When I was in grade school, we had a summer reading club. After summer, in the first few weeks of the school year,  we would create a poster of a favorite book we read, and it would hang in the library for all to view. At some point all the classes would gather together in the library to hear which poster the librarian selected to win that year's Best Poster Prize.
 
One year I chose to do my poster on Heidi by Johanna Spyri.  I worked my heart out capturing all the main characters and events in different places on my poster in very colorful ways. I loved creating the poster and sharing my love of this book through this poster. 
 
And I was excited about the contest. I wanted to win so bad. So, when the announcement came, imagine my disappointment when I didn't. 
 
The librarian placed the blue ribbon on another poster end explained that this poster, with one simple image of a dog, using just two colors, captured the essence of the book Sounder. 
 
Ahhh. That's how you win. Simple. One image. Got it. Now that I fully understand the rules next year the blue ribbon would be mine! 
 
Next year came and I created a poster based on a Nancy Drew book called Mystery of the Glowing Eye about a cyclops-looking stone.
 
One image. An eyeball. Two colors. Simple. I was a shoo-in, right? 
 
Wrong. I did not win again.  I was angry and confused. 
Just Tell Me What I Need To Do To Succeed And I'll Do It 
I heard the feedback and thought I understood what I needed to do to succeed…yet the next time around there seemed to be a new set of rule.
 
I have heard this same thing when it comes to interviewing. You do all the things you have been told to do yet you're still looking for work.
Got your resume in place 

Update your LinkedIn profile 

Reached out to your network 

Prepared for the interviews 

Had a great interview 

Wrote a grammatically-correct thank you note 
Check. Check. Check. Check. Check. Check. 
 
Your offer letter must be on its way, correct? Wrong again. What you hear instead is "We have decided to go in a different direction".
Hello anger and confusion.
Lesson Learned at 11
What my 11-year-old brain realized the day that I did not win the ribbon was that I may never figure out what people are going to say or do or how they will respond to my efforts so I need to make sure that my efforts are put towards things that make me happy no matter the outcome. 
 
Yes, there are guidelines to follow that will get you in the game. Apply to the jobs. Follow up on your applications. Ask to connect on LinkedIn. Prepare well.
 
None of that guarantees you will get the outcome you are seeking. 
 
So, I suggest creating your own set of rules that takes this reality into account. 
 
Rule #1: Don't attach to an outcome
Rule #2: Take control of the process instead. Do what you know to do
Rule #3: Have fun. Because….. why not? 
Rule #4: When you feel angry or confused…See Rule #1
---
Interesting Fact about Heidi
Heidi was originally published in 1881 by Swiss author Johanna Spyri in two parts:
Heidi: Her Years of Wandering and Learning and
Heidi: How She Used What She Learned.
Seems like something I would suggest for a job search -wander, learn and apply!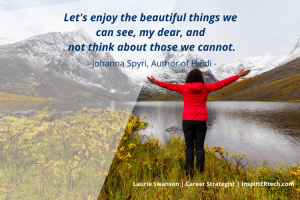 Shirley Temple as Heidi – first night with her Grandfather