Life is not slowing down for me.
In fact, since Covid-19 hit, I feel like I have MORE on my plate.
Many of the people I am talking to feel the same way.
Extra load at home and work. Job searching. Added financial stress.
Recently, I was on a call with a group I am in and the leader asked us to think about this question:
What message would I want to hear from someone right now that would most help me?
When I did this exercise, I realized that what I needed to hear right now was that I will figure it out. I am doing a great job. Everything will get done in its own time. Stop stressing and have some fun.
As soon as I told myself this, I felt like a huge weight was lifted off me.
A lightness came over me and I felt re-energized and ready to move forward with my day.
I had great advice for myself. Who knew?
Ready to get some great advice? Try this:
As soon as you begin to feel the mounting of stress in your body take a pause.
If possible, sit down or pull into a parking spot before you do whatever you were getting ready to do
Close your eyes and imagine you are seated across from yourself over a cup of your favorite comforting beverage
Now ask your imaginary self, "Wha

Listen

. Listen some more.
Lean in. Nod your head.

Rub your own shoulders

.
Say, "I hear you".

"

You got this"

.
Feel whatever you are feeling and take the advice you were given.
When you are starting to feel stressed don't operate on top of what you are feeling. Be your own best friend, therapist and coach. Ask yourself what message you most need to hear right now. That will be the best advice you could ever receive.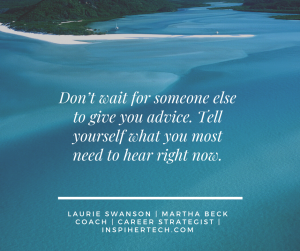 De-stress to music and the beauty of nature