People often say that you should "remove your masks". I think that is very good advice. A life spent hiding your authentic self is not only hard work but exhausting and not much fun.
But sometimes putting on a mask (and I'm not talking about Halloween masks) can be a good thing.
This year my younger brother got married. My daughter and I went to the wedding in New York City (my husband was taking my son to start his Freshman year of college at University of Iowa).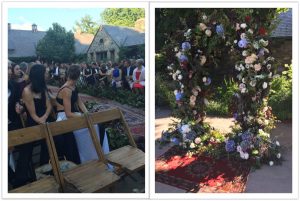 My brother John and his wife Andrea know how to throw a party.
The wedding venue was beyond beautiful.  It was at Stone Barns at Blue Hill.
The reception was held in a room that looked like the dining hall as Hogwarts. So beautiful.
At the reception, they had constructed a lighted dance floor. The band was fantastic. They had people dancing from the first song.
My daughter is a bit shy. She likes to dance but is not one to just jump in there. So we stood off to the side and enjoyed listening to music and watching people dance for most of the night.
Because there is a sound restriction in Westchester County, the band had to stop at 11:00. My brother and his wife knew that their crowd would not be ready to leave at that point so they came up with a totally crazy solution…
As soon as the band stopped playing we were asked to follow a person dressed up as the White Rabbit (their wedding was an Alice in Wonderland theme). We were led to a grassy area around the side of the barns.
As we came around the corner, my daughter screamed, "It's a Silent Disco! I have been wanting to go to one of these!"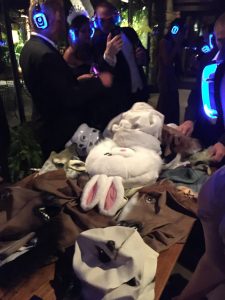 Never heard of one?
Everyone was given a pair of wireless headphones. We are all listening to the same music but if you are not wearing the headphones then you would not be able to hear anything (except someone like me singing off key).
Then we were led to a "costume" room where you could put on masks and costumes.
Then out to the big grassy area for some crazy SILENT dancing.
My daughter spent some time picking out her costume. Trying on different masks and heads and clothes.
But once she found the look she wanted she did not waste any time.
The next thing I know she is singing, dancing and playing air guitar to Seven Nation Army by The White Stripes and rockin' a horse head and Princess Leia outfit.
Rebecca was not the only one coming out of her shell. Many who had stood watching were now dressed up and dancing.
The freedom wearing a mask brought them was something to see.
MY AH-HA MOMENT
The thing I realized is that, for some of us, it is easy to just jump in. But, for others, wearing a mask brings courage.
So, if wearing a mask is what you need to do in order to begin to build your courage then, by all means, do it. 
Try This:
It's the perfect time of year to get a cool mask. Celebrate Halloween by putting on a mask and doing something you have been wanting to do but just have not had the courage:
Ask someone on a date
Call 3 new potential clients and set up a coffee
Go dancing
Tell someone your truth
Take a public speaking class
Let go of the past
Go to a meetup
Give notice at your soul-crushing job
Ask for a raise
Set a boundary
Take a trip by yourself
Then you may be surprised. One day you find yourself speaking up when in the past you would have kept your mouth shut. You say no. You say yes. You wear white shoes in October.
All you need to do is imagine that mask and the courage you need will be there.